The magic and importance of reading books with young children enjoying book week 
Reading is a portal to fantasy and imagination that makes your heart sing and your brain dance with delight. What greater gift to give a child than the gift of a shared story?At Kids College we are proud bookworms. Reading and literacy is embedded into our days and is part of the fabric of what we do everyday. Books are part of our classroom environment in every way. We run mat sessions is every age group throughout the day, books are accessible for children and we read bedtime stories at rest time every day. Reading aloud and sharing stories with children is a great way to spend time together. Reading and storytelling also helps promote language, literacy and brain development. Reading is like breathing in, writing is like breathing out. We invest in reading so we are setting the foundations for their journey to learn to write. We know from research that children who are not read to have poorer understanding of language, their vocabularies are smaller and their thinking skills are less advanced.  And this means they go on to have trouble learning to read themselves.  Clearly reading the right books in the right way to your child is critical to their development
Book week 
Each year since 1945 the CBCA has brought children and books together across Australia through CBCA Book Week. During this time schools and public libraries spend one glorious week celebrating books and Australian children's authors and illustrators.
Book Week presents a time to celebrate favourite characters from classics through to contemporary books. While children are engaged in a range of fun activities to celebrate Book Week, families are reminded of the ongoing benefits of early reading for future success.
Literacy is an essential skill
Literacy is an essential skill that has an impact on our life chances. Made up of reading, writing, speaking and listening, literacy begins in a baby's earliest days. Research shows that babies in the womb are tuning in to in early years needs to have a clear understanding of literacy, and the many ways that it their mother's voice and the patterns of their home language several weeks before birth.
As children grow, developing an enjoyment of books can help reinforce these essential literacy skills, supporting them learn to read, write, speak, and listen. Everyone working in early years needs to have a clear understanding of literacy, and the many ways that it can be supported.
Why reading is important for babies and young children
Children learn new language by scaffolding with more capable peers or adults, by engaging in shared reading experiences together. This allows for dynamic and active engagement with the text to develop children's language. Sharing stories, talking and singing every day helps your child's development in many ways.
Sitting down with a book provides children with a time for quiet and calmnessin their busy lives
Stories can stimulate imagination and play
Reading provides adults with more opportunities to bond with their children
Stories provoke curiosity and discussion
Books provides inspiration, thought and reflection
Picture books help readers to develop an appreciation for art and writing
Reading a variety of books exposes children to a wide range of language features and vocabulary
Listening to stories assists in the development of literacy skillsand language development
Exposure to books contributes to the understanding of print concepts(eg. left to right, top to bottom)
Books and stories fill a child's mind with knowledge help your child get to know sounds, words and language, and develop early literacy skills
learn to value books and stories
spark your child's imagination and stimulate curiosity
help your child's brain, social skills and communication skills develop
help your child learn the difference between 'real' and 'make-believe'
help your child understand change and new or frightening events, and also the strong emotions that can go along with them.
help your child get to know sounds, words and language, and develop early literacy skills
learn to value books and stories
help develop your child's brain, ability to focus, concentration, social skills and communication skills
help your child learn the difference between 'real' and 'make-believe'
help your child understand new or frightening events, and the strong emotions that come with them
help your child learn about the world, their own culture and other cultures.
Sharing stories with your child doesn't mean you have to read from a book.
Just by looking at books with your child and talking about them, you can be a great storyteller and a good model for using language and books. Your child will learn by watching you hold a book the right way and seeing how you move through the book by gently turning the pages.
Reading stories with children has benefits for grown-ups too. The special time you spend reading together promotes bonding and helps to build your relationship with your child.
Reading is a workout for your brain
When you read, you exercise your comprehension abilities and your analytical abilities. It fires up your imagination and stimulates the memory centers of your mind. It helps recall information as well as stabilize your emotions. The importance of a reading habit is that it strengthens mental muscles. One key benefit of inculcating the habit of reading is the development of critical thinking skills. Reading books increases your knowledge, enhances your inventiveness, builds your vocabulary and generally makes you smarter.
Does reading rewire your brain?
Reading isn't just a way to cram facts into your brain. It's a way to rewire how your brain works in general. It strengthens your ability to imagine alternative paths, remember details, picture detailed scenes, and think through complex problems.
Does reading increase your intelligence?
Exposure to vocabulary through reading (particularly reading children's books) not only leads to higher score on reading tests, but also higher scores on general tests of intelligence for children. Plus, stronger early reading skills may mean higher intelligence later in life.
How do books affect us?
There are numerous ways that books influence our lives — they give us insight into how other people live, they broaden our worldview, they influence our thoughts on politics and social issues, they show us how to be better people, and they help us to not feel alone.
Books are important for dramatic play
Children love large-scale dramatic play. It offers them an immediate route into another world and an opportunity to try out what it might be like to be somebody, or something, completely different. It provides a way for them to view the world through somebody else's eyes and to explore how this other person or thing might feel.
Tips for sharing books with babies and young children
Make a routine and try to share at least one book every day. A reading chair where you're both comfortable can become part of your reading routine.
Turn off the TV or radio, put your phone on silent, and find a quiet place to read so your child can hear your voice.
Hold your child close or on your knee while you read, so your child can see your face and the book.
Try out funny noises and sounds – play and have fun!
Involve your child by encouraging talk about the pictures, and by repeating familiar words and phrases.
Let your toddler choose the books when they're old enough to start asking – and be prepared to read your toddler's favourite books over and over again.
If you have older children, they can share books with your younger children, or you can all read together. Taking turns, asking questions and listening to the answers are all important skills that will help children when they start learning how to read.
Surprising advice for reading to children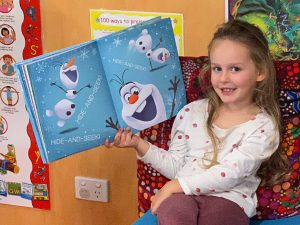 Don't expect children to sit and listen to an educator reading a book from beginning to end
Let them ask questions and make comments
follow your children's interests in parts of the book, encouraging them to point, label
comment and describe what they are seeing describing the book not just the words on the page
encourage children to answer questions, comment, and share their reactions and feelings during the reading
facilitate active meaning making throughout the reading experience by engaging children using comments, descriptions, invitations to interact, and questions
build on children's background knowledge of the words used and the context of the book before reading the text, and consolidating it after reading
discussing the text before, during, and after reading.
Build all sorts of reading into your daily lives, read the cereal box, point out the road signs, read the shop signs as you walk through the mall, write lists and let your children scribble lists of their own.
Simply become the narrator of your lives by expressly pointing out the everyday literacy learning opportunities on offer.
How to bring the book to life
To add to the sparkle of book reading don't forget to garnish with liberal servings of teaching through enjoying and immersing yourself into the story. Create emotional suspense by emphasising certain words and phrases, and by using pauses. Ensure you clearly pronounce the words of the story. Be sure to include all the parts of the narrative (setting, characters, plot, resolution).
Modulate your pitch (voice highs and lows), tempo (speed), and rhythm. Using pitch and speed to build suspense and enhance the story meaning gives it the tempo it needs in that moment. Use your full body to convey the story and use gestures, to punctuate. Read with emotion and highlight changes in the emotions of characters using animated facial expressions that match with the emotions within the book.
Get creative and enhance the reading experience by using different-sounding voices, movements and gestures to voice different characters. Most of all if you love the story, they will love it too. Enjoy this special time with our little one.
How to choose a book
Consider the age, interests, understanding and language skills of your child. Think about what language (sounds, vocabulary, grammar) you would like to highlight and embed within the book reading experience. Choose books by how the characters, events, and messages within the story will appeal to your child and complement their interests. Ensure the length of the book is appropriate for their age. Is it fun?
Suggested features of children's literature suitable for different ages and levels of learning and development include:
Early communicators (birth – 18 months)
At this stage of life babies enjoy listening to simple stories. They benefit listening to oral stories, and shared book reading. They love pictures in books, as well as props/costume used to tell stories. It is never too early to start reading to your baby.
What kinds of books are for early communicators (birth – 18 months)
light and sturdy so they can be held by the infant
colourful bright pictures that are clear and identifiable
textures/flaps/cut-outs/puppets/mirrors/sound makers to make reading more interactive
nursery rhymes and songs with repetition and rhythm
stories that are relatable
stories that have repetition.
Early language users (12 – 36 months)
Children are interested increasingly in listening to stories, and from 2 years most will start telling their own stories. From 2 years: they will start to tell a description of unrelated ideas/events e.g. a child might tell a story like this: "A girl is eating cookies. The man is going to the car. The baby is sleeping." From 2-3 years: they will start to tell stories with a central character, topic or setting e.g. a child might say: "The girl lives with her mum and dad. The dog lives with them too. They all live together"
What kinds of books are for early language users (12 – 36 months)
simple stories with a beginning, middle and end
a few characters – people, animals, toys
not too long, but interesting storyline
repetition and catchy phrases children can join in with
opportunities to predict what will happen next
non-fiction texts introducing concepts like colours, numbers, shapes, categories
rhymes, poems or songs (longer than for early communicators)
engaging pictures or photographs.
What kinds of books are for Language and emergent literacy learners (30 – 60 months)
By 3-4 years old children usually tell stories that are in the right order e.g. "Once there was a boy. One day he was playing in the pond. And he found a frog. And he took it home and put it in his room and went to eat dinner."
Language and emergent literacy learners (30-60 months)
longer and more intricate stories
non-fiction texts about everyday routines, feelings, or introducing new concepts
rhymes, poems or songs (longer than for early language users).
Books can teach many more things in all different areas of development.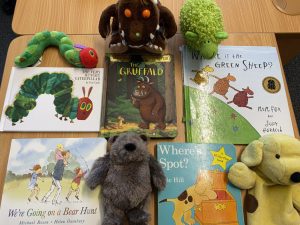 Squash and a squeeze by Julie Donaldson and Axel Scheffler can be used to learn rhyming, letter to sound correlation and be used as a speech and hearing tool buy linking the words to gestures.
Wombat Stew by Marcia Vaughan and Pamela Lofts is useful to teach rhythm, repetition, alliteration and vocabulary building with Australian words and animals. Books need not be for inside only, take them outside and spars creativity physically outside by making mud pies and wombat stews.
One fish two fish by Dr Seuss is fantastic for sound recognition and pronunciation as a speech and language development strategy particularly for sounds 'f' and the 'sh' sound. One fish two fish expands vocabulary and uses very descriptive words to bring the story to life.
The Magic Hat by Mem Fox and Tricia Tusa is full of imagination and magic. This opens up such a vast array of opportunities for asking questions, hypothesising and generally enjoying the magical antics of the magic hat. You can also make your own hat and go on your own on lots of adventures.
The Very Hungry Monsters by Rosi Greening and Lara Ede is powerful in teaching children how to deal with worries and build their resilience. A kind of talk therapy to give your child the strategies to feed the worry monsters their worries.
The Gruffalo by Julie Donaldson and Axel Scheffler is simply outstanding. One of it's lessons is it teaches us to be brave and clever. It delights children with it's amazing rhyming cadence. Auditory memory is strong as you learn what the Gruffalo looks like and recite it back.
Where is the green sheep? by Mem Fox and Judy Horacek is a delightfully simple tale using rhyming words and imaginary scenarios. It introduces many language concepts and descriptive language and is mesmerising in it's magic.
The Very Hungry Caterpillar by Eric Carle as well as teaching how the caterpillar metamorphizes into a butterfly the predictable language of the text invites repetition, memory and encourages children to fully participate in the story.
Where's spot By Eric Hill is a great starter level book that shows children the meanings of words and provide them with opportunities to use new words. There are action words, object words and location words.
We're going on a bear hunt by Michael Rosen and Helen Oxenbury emphasises rhythm and rhyme and children enjoy actively being part of the story telling. The descriptive and repetitive language makes this story easy and fun for everyone to participate in and introduces prepositions that you can use with physical play as you act out the story on your own bear hunt.
Whoever you are by Mem Fox and Leslie Straub explores and celebrates difference, valuing humankind. It is an inspiring celebration for all children, whoever they are.This story weaves its way across cultures and generations, celebrating the bond that unites us all and enhances the dignity and rights of every child.
Squash and a squeeze by Julie Donaldson and Axel Scheffler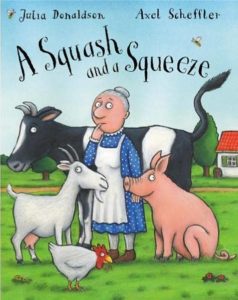 A little old lady complains to a wise old man that her house is too small. He advises her to take in a succession of animals who manage to cause all kinds of chaos. It really is a squash and a squeeze once there are five occupants in the house, so the wise old man tells the little old lady to take them all out again. Once the little old lady is all alone she realises that her house isn't so small after all!
The repetitive, rhyming text flows beautifully and is great for children to join in with. Axel Scheffler's illustrations make the story easy to follow and help to support beginner readers. This book is perfect for reinforcing letter to sound recognition. To use a speech and hearing therapy strategy combine auditory with kinaesthetic learning by using hand signals to draw attention to the sounds. Use your dominant hand to create swirling s near your mouth. This draws attention to the sound, the way your mouth moves and provide a physical cue aswell further strengthening the learning.
A simple story of a lady who lives in a very small house turns out to be a moral tale for our times. Moral of the story: Maybe sometimes it's best to look at what you have and be thankful rather than to be always wanting for something more.
Wombat Stew By Marcia Vaughan and Pamela Lofts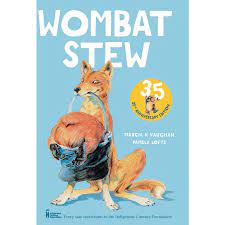 One day a dingo catches a wombat by the Billabong. The wombat's friends want to save him so they help the dingo make the stew with some very yucky ingredients. The dingo's soup is not quite how he intended. The text is relatively short and uncomplicated, written with a certain rhythm. The use of repetition adds such a fun dynamic. The children are introduced to Australian animals and our country with the clever use of alliteration like 'Big blobs and billabong mud'
This story is particularly wonderful for encouraging kinaesthetic and sensory learning and is ideal to spark creativity in a real mud kitchen environment. Children will love making wombat stew of their own backyards.
Mud kitchens are amazing spaces for sparking children's imagination. It takes a good deal of creative thinking to transform muddy creations into culinary delights. With a bit of creativity, sloppy mud can become a smooth cake batter.
Mud kitchens can also provide an opportunity to meld physical play with for language development from multiple avenues, such as books. We encourage children to talk about what they're doing, and often the excitement of being outside and involved in messy play gets young learners feeling even more confident about speaking and sharing their thoughts.
One fish two fish by Dr Seuss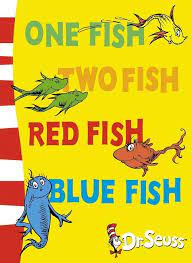 One fish two fish is great for rhyming but also for repeated, predictable "f' and "sh" sounds. If your child is having trouble with either or both of these sounds you can 'bombard them' with it by reading this story. Delays in acquisition of these sounds, and other high frequency sounds is common with children who have experienced conductive hearing loss (often associated with recurrent or prolonged middle ear infections). Just listening to the sounds over and over again can help a child to eventually make this sound. Keep in mind that exposing children to repeated sounds is advantageous for their development of this sound. The aim is not to test but to teach, just constantly role model the correct sounds and prompts and they will try to imitate when they are ready to.
Emphasise your 'f' sounds and even use your hand showing a high five sign. Likewise, if you are targeting "sh", you can emphasise it/ bring a finger to your lips as if to "shush" someone.
This book is particularly good for developing higher level vocabulary. Reading it together with children allows you to introduce a new word like stupendous while pairing it with a known word like great. This book is a good choice for children who are building their vocabulary of descriptive words, and/or learning that words can have a similar meaning, i.e. synonyms, touching on the metalinguistic concepts of talking about words (language about language).
The Very Hungry Monsters by Rosie Greening and Lara Ede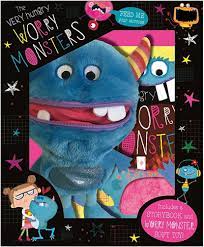 Have you heard of the worry monsters? They always know how to cheer you up! Children will love this simple story featuring the friendly worry monsters, designed to help children overcome their worries.
Worry monsters are a kind of 'talking therapy.' They work a bit like psychoanalysis, where an individual talks about their worries to help to manage and process them.
First, get the children all to think of something that might be worrying them. Say a worry, and then place that worry or an object representing that worry into the worry monster's mouth.
The idea behind all these activities is not that convince children that worries don't exist. Far from it! It is more to get them to think about and process worry in a logical way and let the worry monster help.
Worry monsters give us a perfect opportunity to encourage relaxation through yoga or mini guided meditation when they are feeling worried. Guided meditations can be brilliant for relieving anxiety in children.
To perform a mini guided meditation
First, get the children to lie on the floor and close their eyes. You could potentially put someone relaxing music on. Get the children to take a few deep breaths first, and fully relax.
And then start a story. The way to include worry in the story, is to get the children to visualise something their worried about, and somehow trap the worry.
Here's an example of worry monster meditation
Imagine there is something that you are worried about. It might be something that makes you sad, or that you are scared of.
Imagine your worry as a ball in your hand.
You are going to feed the worry monster your worry ball.
He opens his mouth and you put the ball in his mouth.
The worry monster closes his mouth and smiles.
Your worry is now his worry to look after.
Take a deep breath and feel your body relax into the floor.
Whisper 'Thank you worry monster"
The Gruffalo By Julie Donaldson and Axel Scheffler
It's the tale of a small brown mouse and his duplicitous and inventive adventures in a deep, dark wood.  Everyone who meets him lies to him and wants to eat him, with the exception of the eponymous title character.  The Gruffalo is completely up-front about the fact that he wants to eat the mouse, preferably on a slice of bread.  In fact, the Gruffalo, the monster in the tale, is the only one who tells the truth (he's also incredibly gullible, unlike the mouse). he uses that knowledge to his advantage, convincing the predators in the forest that he is unafraid of the Gruffalo, and at the same time convincing the Gruffalo that he, the mouse, is the most terrible creature in the wood.
In the end, the monster is not to be feared, but pitied, for both his fear of becoming food himself ("Gruffalo Crumble!") and his gullibility, which the mouse exploits so ruthlessly for his own survival
The lessons taken from the Gruffalo are not complicated ones.  Bravery, and a little inventiveness, can be helpful in overcoming pretty challenging obstacles.
The Gruffalo is suited to so many purposes, and is particularly wonderful for working on auditory memory. Auditory memory refers to recalling a spoken sentence(s). For example, you read "…his eyes are orange, his tongue is black and he has purple prickles all over his back", pause, and place the book face down as you ask "what did he look like?" You are aiming to prompt an immediate recall of the sentence but if this is too hard, use scaffolding by asking "what colour were his eyes?", "what colour was his tongue?". For those children who are really struggling use the illustrations in the book to prompt recall. As children's auditory memory develops you can gradual reduce the scaffolding cues. The children love the repetitive refrain and take great delight in helping you tell the story.
Where is the green sheep? By Mem Fox and Judy Horacek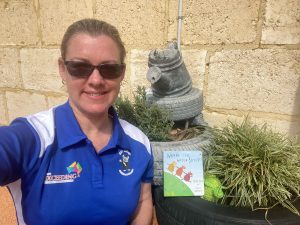 This is a story is simply about finding the green sheep seeing what he's been doing. As you go though each page, you will find lots of different sheep of different colours and with different interests. But will you find the green sheep?
This book is suitable for very young children. It is colourful book that is quirky and easy to follow. The pictures and rhyme are sure to keep your child engaged, while the story will keep your child guessing about the whereabouts of the mysterious green sheep. This book will help your child develop language and pre literacy skills.
Who doesn't love this book? It is packed with speech and language concepts. It is a great book for "where questions, and teaching children that where refers to place. Concepts like up/ down, thin/wide, near/far are represented visually, not to mention all of those doing words like flying, riding, swimming and playing. Perfect for appreciating nature, as the green sheep is finally found enjoying the outdoors fast sleep under a bushy tree.
The Very Hungry Caterpillar By Eric Carle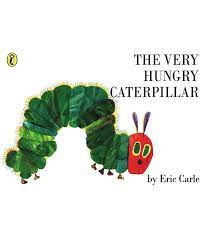 The Very Hungry Caterpillar is a story about a small caterpillar who emerges from an egg and begins eating everything in sight. After six days of eating fruits, sweets, and "junk" food, he gets a stomachache. On the seventh day, the caterpillar eats a "nice leaf" and feels much better. The now big, fat and not-hungry caterpillar builds a cocoon around himself and finally emerges as a beautiful butterfly.
Very Hungry Caterpillar' is a great book for babies and young children because it's short and colourful with lots of repetition and rhythmic language. Small babies will just love listening to you read and looking at the pictures.
The predictable language of the text encourages children to chime in and read along. The Very Hungry Caterpillar also teaches readers about the days of the week, counting, nutrition, and the life cycle of a butterfly. It also highlights that things change and encourages reliance and patience. Eric Carle has written over 70 books.
Where's spot By Eric Hill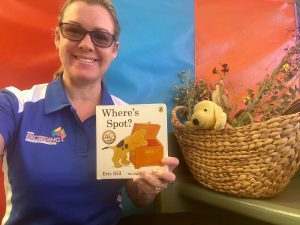 The collection of Spot books have simple and colourful illustrations and a simple storyline help them understand the meanings of words and provide them with opportunities to use new words. For children who are just starting to talk, these books provide great opportunities for introducing new words.
'Where is Spot" is a simple, lift-the-flap book about a mother dog named Sally who searches all over the house for her pup, Spot. On each page, she looks in a different location (in the closet, under the bed, behind the door, etc.), and children can lift the flap to see if Spot is there. Under each flap is a big surprise – not Spot, but all kinds of other animals you'd never expect!
This book is especially great for building vocabulary because even children with few words can participate by lifting the flaps while you name the animal underneath.
The variety of word types in the book provide many words to consider introducing to your child. For example, there are object names ("door", "clock", "stairs", "bed"), action words ("open", "hiding", "eating") and location words ("inside", "behind", "under")
The word "no" is repeated on each page, so children can practice saying this word by answering the question each time they lift the flap
The illustrations are simple and attention-grabbing because they are surrounded by a lot of white space. They also clearly show what is happening in the story, which helps to convey the meaning of unfamiliar words.
We're going on a bear hunt by Michael Rosen and Helen Oxenbury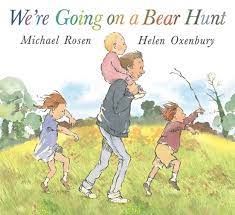 We're Going on a Bear Hunt is a fantastic, memorable romp of a story that sweeps children up in the adventure from the very first line. This well-loved picture book provides the perfect opportunity to explore things on a bigger scale both indoors and out.
This is a story about a father and his four children who all go on a bear hunt together and embark on an exciting adventure. The story sees the family slide down a grassy slope, wade through a river, trudge through mud, to mention a few things until they, finally come to the bear's cave. The bear then chases them all back to their home. Is this great adventure real or imagined?
The book targets children from the age of four years when they are beginning to recognise rhythm and rhyme and enjoy actively being part of the story telling.   Together, you can explore the plausibility of it being a real or imagined adventure. Asking questions such as 'Would we really go looking for a bear?' 'What could we look for if we went on an adventure together?'.
The descriptive and repetitive language makes this story easy and fun for everyone to participate in and introduces prepositions that you can use with physical play as you act out the story on your own bear hunt.
Whoever you are by Mem Fox and Leslie Straub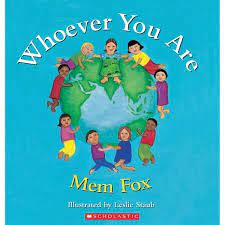 'Whoever You Are' is a great picture book which explores and celebrates difference, valuing humankind. It is an inspiring celebration for all children, whoever they are.
Every day all over Australia, children are laughing and crying, playing and learning, eating and sleeping. They may not look the same or speak the same language, but inside, they are just like you. This story weaves its way across cultures and generations, celebrating the bond that unites us all and enhances the dignity and rights of every child. Whoever You Are is for children aged from one day (literally) to about five years old.
We have to get to the children, while they're young to teach each them about the similarities between the peoples of the world, not the differences. You can hear how the author Mem Fox imagined a tribal elder talking to a child, passing on the values of the tribe as this story-poem emerges.
2023 books we are focussing on
Babies
Hug by Jez Alborough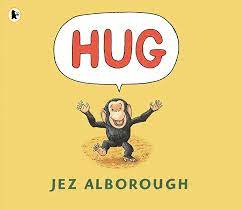 Who would've thought that a book containing only ONE word would be so much fun? Children of all ages can relate to it… from the tiny toddlers to the grown up kindergartners.The book is simply about a little monkey taking a walk around the jungle. He sees different animal cubs and their mommies all hugging. The little monkey eventually grows sad because he wants a hug too, and yet he can't find his mommy. HUG! Don't worry though, this book has a happy ending. The little monkey of course finds his mommy and finally gets that hug.
Toddlers
Russel the Sheep
by Rob Scotton
This story is about a sheep named Russell that could not fall asleep. He tried sleeping in all different places and no matter how hard he tried he just could not sleep. I thought this picture book was a very creative way to teach children about counting sheep to help them fall asleep.
3 year Kindy
The Magic Hat by
Mem Fox and Tricia Tusa
One fine day, from out of town–and without any warning at all–a magic hat appears in the sky. It tumbles and bounces through the air and makes magic wherever it lands. Everyone is delighted as, one by one, the townspeople are transformed into giant playful animals. And then a wizard arrives. . . . With irresistible rhyming language and bright, whimsical illustrations, this perfect read-aloud by internationally acclaimed author Mem Fox will weave its way into the hearts of young children everywhere.
This gives us so much opportunity for discussion as the story ignites their imaginations. What happened each time the magic hat landed on someone's head?  What sorts of animals did the people become? If the magic hat landed on your head, what animal would you like to turn into?  Why? In the story, how did the animals turn back into people?  Do you think they were glad to be themselves again? What happened when the wizard put the hat on his own head?  Did this surprise you?
4 year Kindy
Hunwicks egg by Pamela Lofts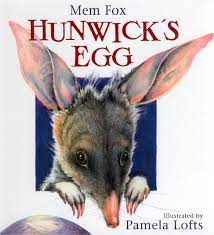 When a mysterious egg appears outside Hunwick's burrow after a terrible storm, no one knows what to do with it. And when it doesn't hatch right away, everyone is even more bewildered. Everyone, that is, but Hunwick. For Hunwick understands the egg. It is his friend. And he is the only one who knows its secret.  After taking care of it comes to realise that is actually a rock, but continues to look after it just the same.
Quote from Kids College Philosophy
'We aim to enhance the children's understanding of the world around them through a developmentally appropriate program of activities rich with opportunities and information to spark a child's imagination and curiosity.'
'We aim to support children's overall sense of wellbeing and increase their emotional intelligence through the love and dedication each of their own unique learning journeys'
'We enjoy moments together, making memories and setting down the groundwork for a lifelong love and passion for learning.'
National Quality Standards
1.2.1 Intentional Teaching. Educators are deliberate, purposeful, and thoughtful in their decisions and actions
5.1.1 Positive educator to child interactions. Responsive and meaningful interactions build trusting relationships which engage and support each child to feel secure, confident and included.
Kids College Childcare family
At Kids College we work each day embedding our values and philosophy into each facet of what we do. We continually improve our practices by critically reflecting and engaging in meaningful relationships with our community and for this we need your support and input. Make sure to follow Kids College Childcare on facebook, watch for our regular emails and keep an eye on our Kids College website. Join our Kids College family community and share in our vision of creating the very best childcare where children experience love, laughter and learning every day. You can reach us on Jennifer@kidscollege.com.au
With love, laughter and learning from your friends in the
'village it takes to raise a child'
Teacher Jen and the Kids College Childcare family