Protective Behaviours is an empowerment program that promotes happy, healthy, adventurous and life enhancing activities, all within a framework of safety. Just as you would keep a child safe from the sun by using sunscreen we keep our children safe by empowering them with lifelong skills of assertiveness, self-confidence, problem solving and communication.
The Protective Behaviours approach is not negative, scary or confronting. We simply are teaching children to listen to their intuitionand their own feelings so that they are safe. Protective behaviours is just that, teaching children behaviours helping them to be safe, in a non confronting way. Child protection is different to protective behaviours. Child protection entails the community around each child and how we are creating a safe environment for our children.
Protective Behaviours
Protective Behaviours, or PB as it is known, is a strengths-based life skill which encourages personal safety, self-empowerment, empathy, connection and responsibility to the rights of others, and responsibility for an individual's own right to feel safe all the time, giving the confidence and strategies to live safe adventurous lives. Protective Behaviours is grounded in upholding, respecting, advocating and role-modelling our responsibility to, and responsibility for human rights, particularly the Rights of the Child. Protective Behaviours themes and strategies often compliment or form protective education programs for children.  
Protective Behaviours PB is a proactive and preventative life skills and personal safety program. It is designed for children, young people and adults to help keep themselves feeling safe. This feeling safe includes physical, mental, emotional and spiritual safety. Protective Behaviours works towards reducing all forms of abuse within the community. It is well known for its success in helping protect children from child sexual abuse by empowering the child.
Protective Behaviours builds capacity, develops assertiveness, self esteem, resilience and communication skills, it empowers and teaches rights and responsibilities. Importantly, PBs not only teaches strategies about what someone could do if they were feeling unsafe or being victimised, it also teaches how and why not to victimise and respect everyone's right to feel safe.
Protective behaviours linked to our Kids College area of expertise,
Social and Emotional Intelligence
Underpinning the Protective Behaviours process is the social and emotional context, including unwritten rules, feeling thoughts and behaviours and the language of safety. All aspects of PBs are about advocating, empowering and role modelling every persons right to feel safe all the time.

With our right to feel safe comes a responsibility not to do anything that would leave other people feeling unsafe. One person's right to feel safe does not veto another person's right to feel safe. Protective Behaviours helps people to identify when they are feeling unsafe by understanding and recognising their Early Warning Signs and what actions someone might take to help themselves feel safe again. Self-determination, resilience, self- awareness, responsibility for self and responsibility to others are embedded throughout the Protective Behaviours Process.
Two rights every child has
We speak of two rights in Protective Behaviours;
the right to feel safe all the time
and the right to talk with someone about anything.
These are core rights that connect into the United Nations Rights of the Child and are taught to be embedded into our everyday practices with children.
We embed these important messages into our curriculum at Kids College. There are learning sessions with songs, stories and puppets where you will see these messages being taught at Kids College.
Right to talk to someone about anything
at Kids College and for families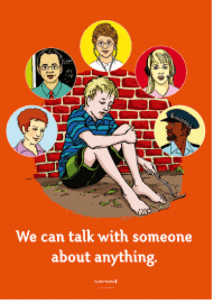 With our strong connections and relationships with children we foster that sense of openness that they can come to us and talk to us about anything and that we can help them. They listen to their intuition and become aware of thoughts and feelings. We are empowering them to feel safe and building their skills. We are proud to be part of the 'village it takes to raise a child' and value our position as a member of your child's safety network, people they know and trust and can turn to.
Listen to what children want to tell you when they are little and this will lead to them telling you the big things as they grow up.
To them it is all just as important. Admire the rock they show you, respect their reluctance to do something they might feel is scary or hard and show empathy for their feelings. Whilst it may seem insignificant to you it might be very important to them and we respect that by showing them we value and listen to what they have to say. By showing them this we open the doors to trusting relationships and ensure children grow up knowing how to keep themselves safe and how to get help when needed.
Right to feel safe all the time at Kids College
What do we do as adults to ensure our children's safety?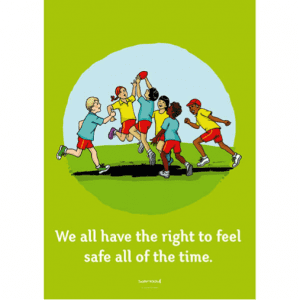 At Kids College we ensure our entire staffing team are trained in Child protection. Our staffing team has working with children checks and national Police Clearances. All our team are trained to teach children protective behaviours. We are aware of protective behaviours in all our curriculum areas and ensure we are sending clear messages.
Teaching children key word signing gives us a tool to bridge the gap in communication and enables us to understand children's intended messages through the combination of gestures, tone, facial expressions, sounds coupled with signs.
Follows and connects into our other programs teaching social emotional intelligence. 'Building Brains program, which emphasizes the importance of gaining deep trusting relationships with children. Becoming attuned to each child's needs reinforces their feelings of being loved and respected and understood. These interactions physically grow children's brains and create neural pathways to new knowledge.
In the early years of social emotional learning we are teaching children to recognize, understand, label, express and regulate their own emotions. We do this third person technique of modeling behaviours and feelings with our Kimochi program puppets and the PALS program puppets.
At Kids College we have further developed this concept of making the right choices for our behaviour when we are having strong feelings. We have created our own charter of values around what we would all like to feel. We want to feel safe and brave and we want to be friendly, kind and helpful.
We have collaboratively developed a visual list of strategies our children can utilize to regulate their feelings and enhance better decision making around their behavioural choices.
ensuring children change in private areas of your home to teach them what is private and public, this helps them distinguish what is appropriate where. This is an especially valuable value to learn as they grow up and are using devices and the internet.help them become aware of their early earning signs and how to listen to them. Verbalise how to describe your feelings when you are uncomfortable, queasy, sick, fidgety, shaky, dark, sad, worried, butterflies etc.
This correlates with our Talk Less Listen More program for behaviour guidance that is based around a child being taught to make their own choices, to be treated with empathy and taught through emotion coaching. This is the goal of emotion coaching: to immerse children in a feeling language where they not only experience attunement, but where they also get used to a language to describe how they're feeling. This ability to reflect on feelings is crucial in developing emotional maturity and a sense of oneself.

Right to feel safe at all times

Advice for families

As parents and guardians you can keep up to date with child protection information and protective behaviours by following websites and facebook sites of recognized authorities.

When they don't want to hug or kiss a relative allow them to know that that is okay and you will respect their wishes, Don't force a visit to Santa on them.

help them work out their safety network and how to communicate with them. Who can they go to for help and how. Let them learn how to phone a trusted adult and just have a conversation.

being aware of your words, tell children its okay to have surprises but the word secrets is avoided. Surprises make us feel good and people can know them, like a surprise birthday party or gift. Secrets can make us feel bad and no one knows them. Would you want your child to feel like they can't go to anyone with a secret that makes them feel very uncomfortable.

Early warning signs

What is an Early Warning Sign?

Early Warning Signs (EWS) are the physiological response our bodies have to feelings. We can identify what our EWS are by observing what is going on in our bodies. The physical feelings someone has when they are not feeling safe (EWS) could include heart beating faster, sweaty palms, stomach churning, wobbly knees, hair standing on end etc. Early warning signs are an internal measurement of risk or safety.

It is important to trust these feelings and encourage others to do the same. We can learn how to better understand body and body signals (EWS) and how to respond to them.

What are the 3 elements of safeness?

There are 3 important elements to the safety equation that determines how safe we feel. Choice + Control = time limit = level of safeness

The questions we ask ourselves to determine our level of safeness are: 1.

Do I have a choice? Have I given my consent? Check in with self to affirm that I am not being forced, coerced or pressured.

Am I in control?
Do I know what is going to happen?
Is there a time limit?
Do I know how long it will last? Can I stop it at any time?

We all have the right to feel safe all the time

We all – is an equal opportunity statement. There are no exceptions.

All the time – we have the right at all times, even if we cannot exercise it. There is no time limitation.

Feeling safe – is different to being safe.

What does safe feel like? Why it is important to identify feelings of safety

Feeling safe is a fundamental human right. We can get in touch with 'feeling safe' by remembering or imagining a "Safe Place". Some people's safe feelings may be warm, comfortable, secure, loved, peaceful or relaxed. Although safe feelings for others may include cold, cool, exhilarated or even energised. Safe feelings are individual and there are no right or wrong safe feelings. No person can determine what somebody else's feeling safe, feels like.

Understanding what safe feels like and identifying the physical signs of feeling safe can help individuals to recognise their feeling safe point and their ok space. Being in touch with these feelings and having strategies to reach them is good for positive mental health. Additionally, being able to recognise feelings of safeness increases the ability to identify feeling unsafe if that should occur.

Safe and Calm for Children — Children Meditation Song — Children's Songs by The Learning Station

https://www.youtube.com/watch?v=tVM9JKbIIqU&t=2s

Before beginning this meditation ensure the children know They do not have to participate in the activity some children may feel unsafe closing their eyes or lying down. Find a quiet moment, get comfortable sitting or laying down and just listen and concentrate on the words.

Personal Space

Personal space is the space that someone needs to have between themselves and someone else, in order to feel comfortable. The amount of personal space someone needs with another person's depends on several factors; these include:

Who it is that wants to be in someone personal space. How the personal space owner is feeling (remember early warning signs). This can change at any time – everyone has their own personal space power and has the right to decide who is their personal space. The power place is the place that is just for us when we need to reflect, recharge, relax and regenerate.

To feel safe in our personal space we must have choice + control + time limit.

My Space My Power Place

By Jodie Ferguson

This vibrantly illustrated children's book with enchanting rhymes is an upbeat approach for children to learn about personal space, personal power and body boundaries.

Parents, care-giver, grandparents and educators alike will enjoy the experience of reading this book with he children in their lives knowing that they are sharing quality reading time but also imparting valuable life lessons.

Jodie Ferguson has over 30 years' experience not only as a mother but working with children and families , she is also a teacher and a leader in the Protective Behaviours space. She is part of the PB West team.
NAPCAN
The National Association for Prevention of Child abuse and Neglect (NAPCAN) create safer communities for children. Each year they host National Child Protection Week, which is all about celebrating the many ways – big and small – that everyone in the community can make a difference in the life of a child. This is particularly important for Aboriginal and Torres Strait Islanders.
To all Aboriginal and Torres Strait Islander Australians, NAPCAN pledges a commitment to walk alongside you to create stronger communities that can protect and nurture your families and children. We acknowledge the suffering (past and present), we value your cultural wisdom and we will listen to your voices.
NAPCAN's work is informed by evidence that child safety and wellbeing is best supported by a whole-of-community approach, where strong communities are equipped with the knowledge and capacity to care for their members in an autonomous and culturally appropriate way
Recognise the role of Aboriginal and Torre Strait Islander communities to drive local solutions to the safety and wellbeing of children and young people. Celebrate and promote the existing strengths and values of Aboriginal people, families, children and communities. Value the cultural wisdom of tens of thousands of years and trust that solutions can be found from within Indigenous culture. Recognise that children exist within the context of their family, community and culture;
This years poster that has been created for National Child Protection Week 2021 to support the theme: "To treat all of Australia's children fairly, we need to make sure every family and community has what kids need to thrive and be healthy". NAPCAN thanks the artist for sharing her knowledge from First Nations culture on the importance of deep listening in creating strong communities for children.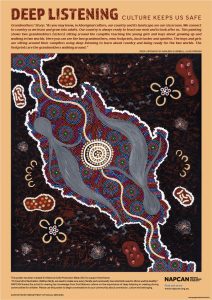 Protective behaviours is like sunscreen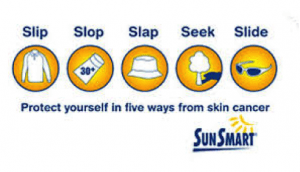 Think of protective behaviours as just as important as sunscreen. The harsh truth is we never know what kinds of dangers are lurking. Just like an overcast day. You don't expect to get sunburnt, but we often do. Children are helped to put sunscreen on every day and over time learn to do this themselves. The message here is to always protect yourself and give children the tools they need. We don't know who our children may come across as they grow up, so we need to teach them to keep themselves safe all the times. Arm your child with the armour of protection no matter what danger they may come across.
Practitioner for Protective Behaviours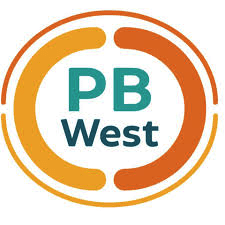 At Kids College Jennifer has trained with Universal Protective Behaviours International Training and PB West Universal PLUS training to achieve practitioner status. This course was through the highly skilled and qualifiied team at PB West, Protective behaviours. 
With over 20 years experience in teaching Protective Behaviours in Australia and abroad their Educators are committed to providing high quality training at all times.
PB West Educators are Protective Behaviours International endorsed.
.  A Protective Behaviours practitioner facilitates personal safety, self-determination, agency and self-empowerment in every interaction. The importance of having someone at Kids College who has this crucial training and is able to lead and mentor our whole team ensures we can embed these safety element s into our practices each and every day.
Getting help and support
Counselling and support services include:
Kids Helpline 1800 55 1800
SARC (sexual assault referral service) Emergency contact 24hrs crisis line )08) 6458 1828
Suicide call back service 1800 659 467
Yorgum 9218 9477
Kid's helpline 1800 55 1800
Anglicare (08) 9325 7033
Centrecare (08) 9325 6644
Crisis care (08) 9223 1111 (24 hours)
Kinway (08) 9263 2050
Lifeline (08) 13 1114 (24 hours)
Mental Health Emergency response Line 1300 555 788
Men's line 1300 78 99 78
Relationships Australia 1300 364 277
Victim support and child wellness services (08) 9425 2850 or 1800 818 988
We have a number of child protection topic information sheets on our website. Go to kidscollege.com.au
Kids College is a child safe organization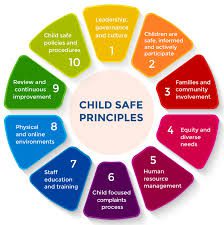 Kids College Philosophy
'We have stringent hygiene, health, nutrition, maintenance, safety and protection standards. We take our duty of care very seriously and will safeguard the safety and wellbeing of our children at all times as a matter of utmost priority.'
National Quality Standard
2.2.1 At all times, reasonable precautions and adequate supervision ensure children are protected from harm and hazard.
2.2.3 Management, educators and staff are aware of their roles and responsibilities to identify and respond to every child at risk of abuse or neglect.
Kids College family
At Kids College we work each day embedding our values and philosophy into each facet of what we do. We continually improve our practices by critically reflecting and engaging in meaningful relationships with our community and for this we need your support and input.
Make sure to follow Kids College Childcare on facebook, watch for our regular emails and keep an eye on our Kids College website. Join our Kids College family community and share in our vision of creating the very best childcare where children experience love, laughter and learning every day. You can reach us on Jennifer@kidscollege.com.au
With love, laughter and learning from your friends in the 
'village it takes to raise a child'
Teacher Jen and the Kids College Childcare family