EBRU Art Therapy at Kids College  
Kids College welcomed international artists Edip and Irena to do an "Introduction to the Mystery of Ebru – marbling Art" with our 4 year Kindy class last year. Kids College are proud to be the first and only childcare in Australia to be holding this amazing incursion with international artists Edip and Irena. Presenter and facilitator Edip Asan is an internationally acclaimed artist, sculptor, expressive art consultant and educator – Turkey, the USA, Russia, Australia and Netherlands. Co-facilitator, Irena Quinn is a counsellor, art therapist, artist and educator. Edip and Irena also do workshops for adults at the Grief Centre WA and Solaris Cancer care. This year in February our very own artist Irena came back to share her magic painting with us again.
What is Ebru art?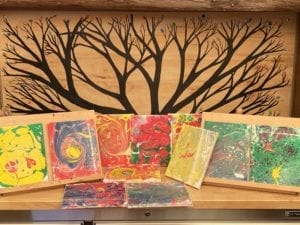 Ebru painting is a distinctive genre of aqueous art used to produce mesmerizing works. Particularly popular in Turkey and Central Asia, Ebru paintings are produced using dyes, a water-based solution, and a set of unique tools. Like printmaking, Ebru works of art are created by transferring designs, patterns, and motifs onto sheets of paper, fabric, and other canvases. " Due to the streaked and swirled aesthetic of the finished product, the ebru art form is also known as 'paper marbling".
Ebru is an art which consists of certain patterns and effects in the production, by means of colors containing a few drops of ox-gall (kind of natural acid helping the colors sprinkle on the gum) so prepared as to float upon a preparation of condensed liquid with the use of kitre (kind of herbal gum), possessing certain properties to the colours prepared for the purpose and which colour floated and formed into patterns upon the surface of the liquid, are taken off by laying on a sheet of paper.
History of Ebru art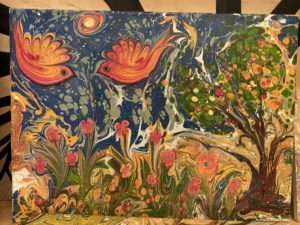 It has been a traditional art of book enriching calligraphy and binding books for many centuries. In the 13th century, the first forms of Ebru emerged in Central Asia and spread to Anatolia through. During the Ottoman period, Turkish calligraphers and artists created new forms and perfected techniques. Ebru: Turkish Art Of Marbling" was registered on UNESCO's Representative List of the Intangible Cultural Heritage of Humanity on behalf of Turkey in 2014.
What does Ebru art teach?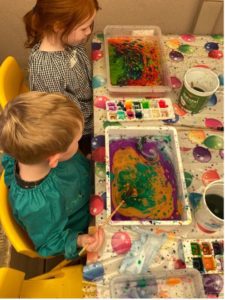 Ebru art of marbling is commonly referred to as the music of colours, has a soul-soothing ability. Ebru art teaches one the skill of developing patience. It has been proven by experience that ebru has a therapeutic essence and contributes to improving aesthetic sensitivity, communication, motivation, creativity, patience, discipline, adaptation and self expression.
The Ebru Art workshop is a creative, motor-sensory experiential, holistic, educational, developmental, engagement and joyful process. It is great for building eye-hand coordination and practicing multi-tasking; working autonomously and as a team; getting connected to a body, self-expression and freedom in the process. At the end of the workshop each child created their own unique masterpiece one on paper and another one on painting canvas.
Ebru art is a uniquely powerful
Different geographies, cultures, individuals and experiences contribute to the improvement of Ebru. Since this art brings water (symbolizing source of life), dance of colors (means of creating amazing world), and feelings of the artist together, each work of Ebru is unique art and cannot be reproduced twice. Every tiny drop of colour descends into a sea of possibilities to create a masterpiece. The characteristics of Ebru allow the artistic flexibility in the choice of techniques through which can be expressed innermost feelings, thoughts and creativity. The tradition brings out human potential around the tradition of craftsmanship by ornamenting sides, inner and outer covers of special books, calligraphy, glassworks, and gifts.
How to create an Ebru painting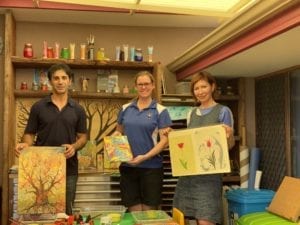 The artist employs a unique process unlike that of any other art form.
First, the artist mixes water with pigment and kitre, a natural gum, to produce a dye. The dye is then added to the surface of the size, a cellulose solution, and an awl is used to manipulate the colours into designs and pattern.
Once the artist has completed this one-of-a-kind "painting" process, a sheet of paper is carefully placed on top of the size in order to transfer the image.
After the sheet is removed from the liquid, it is left to dry.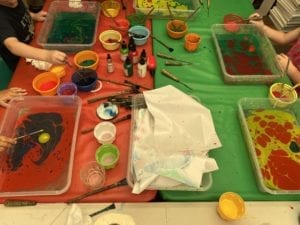 And voila a masterpiece is created.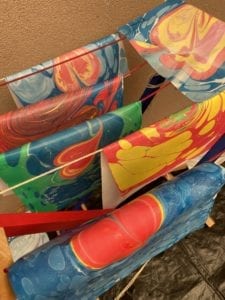 Ebru art is a type of art therapy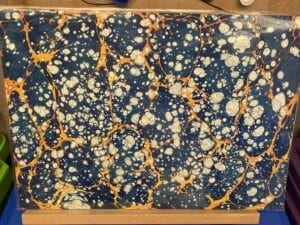 One of the reasons we chose Ebru art was for not just its incredible creative process but for its symbolism and its applications for therapy. Art therapists agree that the creative process itself that is involved in the therapy has therapeutic power.
Young children often feel separation anxiety and Ebru art is just a perfect addition to our strong art program. Whilst we are not art therapists we are aware of the powerful influences on children and adults who get involved in all kinds of creative art.
The Benefits of Art Therapy for Children
Anna Kellerman is an Art Therapist and she explains the benefits of art therapy for children and some art based strategies you can explore with children at home.
What is art therapy?
There are various art therapy approaches, but central to all orientations is the commitment to the art process. It is the presence of the art form that distinguishes art therapy as unique, with an emphasis on the inherent healing qualities of the art process, than purely on the finished art product as an aesthetic statement. Art making can provide individuals with the opportunity to express themselves in creative and non-linear ways, which can deepen the experience of the self, offering potential for insight and ultimately personal healing.
What are the benefits of Art Therapy for children?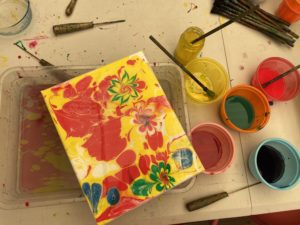 Art making offers a very natural form of communication for most children. As such, art therapy is often considered useful in helping children with a variety of challenging presentations such as personality and emotional disorders, speech and language disorders, childhood trauma, abuse and deprivation, grief and loss.
Some of the main benefits to using an art therapeutic approach with children include:
Emotional Safety – it can offer children a safe way to share their story in a non-confrontational manner.
Art Space – the actual space can offer children a place to explore, experiment, test boundaries, make a mess, let go, process unconscious and conscious material and reflect it back in an acceptable manner.
Metaphor – the use of art materials also lends itself to metaphor and symbolic language, and can be a very powerful way for children to externally express their internal feelings and sensations. Having the opportunity to externalise these feelings in a safe therapeutic space is not only playful but also allows insight into a child's unconscious world, which would otherwise have remained hidden.
Tangible Reference – Creating something tangible within the sessions allows the experience to be retained and referred to later in the therapeutic process if necessary.
Art Based Strategies to Nurture Your Kids at Home
Drawing on Anna Kellerman's experience as an art therapist she has developed a range of art-based strategies that can enhance children's overall wellbeing.  Below are three strategies that you can try at home:
Deepening your Parental Bond
It is well known that parents are the centre of their children's world. Their role is to provide comfort, delight and protection when needed. All they really want is to spend quality time together. If they are 'acting out' they are most likely communicating that they want to feel comforted.
Exercise: Spend 10 minutes a day drawing, doodling, creating or making an artwork separately, or together with your child. The goal is to simply sit and spend more quality time together so they feel an increased sense of love, nurturing, acknowledgement and being prioritised. Be consistent with this simple activity and notice some incremental, or grand, shifts in your relationship.
Help Organise Their Feelings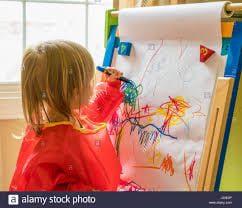 I don't know about you, but I know many adults who are not very good at managing their moods and behaviour. They can easily snap, shout and get angry yet we expect little people to be able to manage their own emotions. It is actually very normal for children to express their emotions, including anger and frustration. It may be hard to witness but rather than trying to change and stop this form of expression it is actually better to acknowledge it, otherwise it could lead to lifelong feelings of shame and an inability to manage anger as an adult.
Exercise: Create an 'art angry wall'. Stick a large piece of paper on the wall and when your child is angry encourage them to draw it out. Ensure they can easily access art materials, so the process goes more smoothly in the moment. It may take time to include into your routine, but it can quickly become a way to both acknowledge their anger and teach them to self-soothe in a healthy way.
Increase Children's Self Worth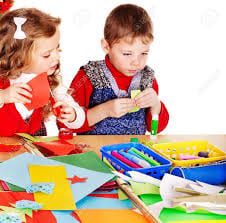 It is so easy to get overwhelmed in our busy lives, but our children are absorbing all this adult stress into their bodies. It is also very easy to let them unwind in front of a screen rather than through their own creative experience.
Exercise: Offer opportunities to make cards and gifts for friends and family, away from technology. This can be very relaxing and rewarding. It can also set them up from an early age to consider other people's feelings, helps create a sense of pride and value in their contribution.
National Quality Standard
1.1.2  Child-centred. Each child's current knowledge, strengths, ideas, culture, abilities and interests are the foundation of the program.
5.1.1 Positive Educator to child interactions. Responsive and meaningful interactions build trusting relationships, which engage and support each child to feel secure, confident and included.
5.2.2 Relationships between children. Each child is supported to regulate their own behaviour, respond appropriately to the behaviour of others and communicate effectively to resolve conflict.
Kids College Philosophy quote
'We aim to support children's overall sense of wellbeing and increase their emotional intelligence through the love and dedication each of their own unique learning journeys.'
'We provide an educationally rich environment, which promotes competence, independent exploration and learning through play.'
Kids College Family
At Kids College Childcare we work each day embedding our values and philosophy into each facet of what we do. We continually improve our practices by critically reflecting and engaging in meaningful relationships with our community and for this we need your support and input.
Make sure to follow Kids College Childcare on facebook, watch for our regular emails and keep an eye on our Kids College website. Join our Kids College family community and share in our vision of creating the very best childcare where children experience love, laughter and learning every day. You can reach us on Jennifer@kidscollege.com
With love, laughter and learning from your friends in the
'village it takes to raise a child'
Teacher Jen and the Kids College Childcare family